MAVIC 2 ENTERPRISE SERIES:
Built to Empower. Destined to Serve.


Developed in partnership with FLIR Systems, the company that brings innovative sensing solutions such as, thermal imaging, visible-light imaging, video analytics, measurement and diagnostics, and advanced threat detection systems. The Mavic 2 Enterprise Dual features the compact design of DJI's Mavic 2 Series drones with the same array of advanced controls and accessories found in the Mavic 2 Enterprise. The unique feature of Mavic 2 Enterprise Dual is the ability to measure temperatures and conveniently store images and temperature data for efficient reporting and analysis, adding immediate value to a range of industrial or time-sensitive operations today from utility inspections to emergency response.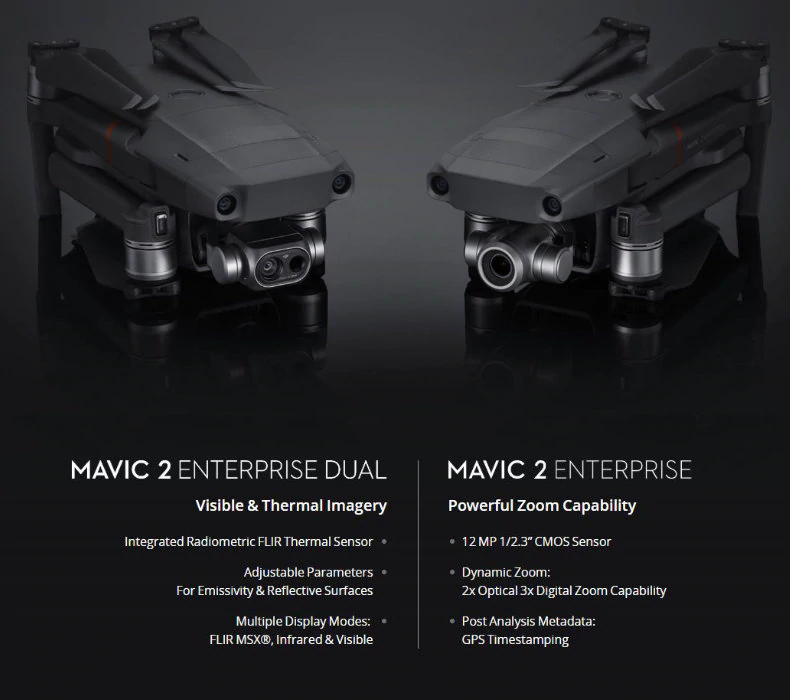 FLIR THERMAL IMAGING SYSTEM
Having the same form factor that of the Mavic 2 Pro the Mavic 2 Enterprise Dual features a three-axis gimbal stabilized camera housing a side-by-side 4K sensor for capturing visible light and a FLIR Lepton® thermal microcamera for capturing thermal data. The sensors of the Mavic 2 Enterprise Dual allow pilots to perform lowlight or night operations, as well as fly in complex daytime conditions like fog and smoke. Pilots can select from different intelligent display modes in the DJI Pilot flight control app to visualize data from the dual-sensor camera:
FLIR MSX®
FLIR's patented MSX, or multispectral dynamic imaging, embosses high-fidelity, visible light details onto the thermal imagery in real time to enhance visual details, helping pilots quickly identify and interpret critical data that may not be immediately visible to the naked eye.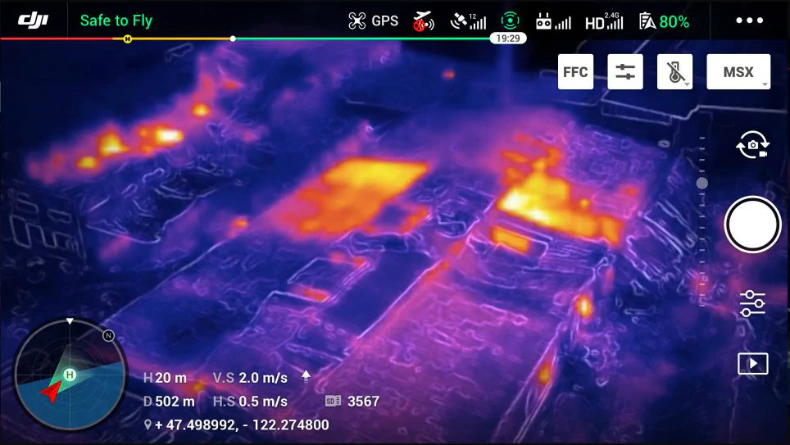 SPOT METER
The average temperature of an object is displayed. This mode help pilots monitor and measure critical or hazardous objects while maintaining a safe distance.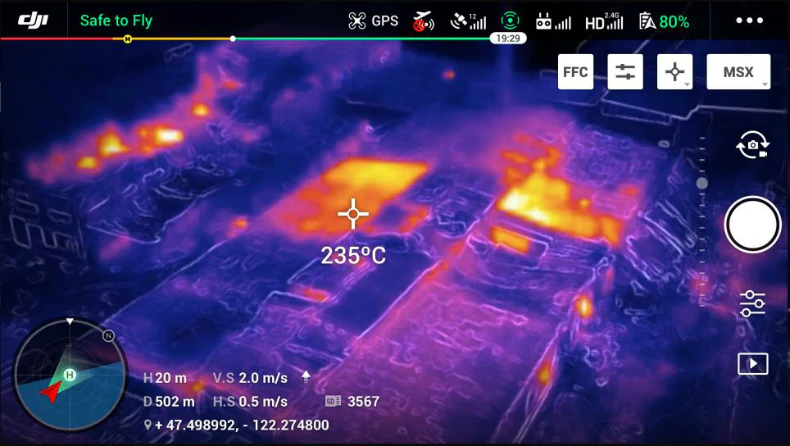 AREA MEASUREMENT
Displays the average, lowest, and highest temperature, as well as the corresponding locations of each area, allowing inspectors to quickly assess objects and determine if an asset may be overheating.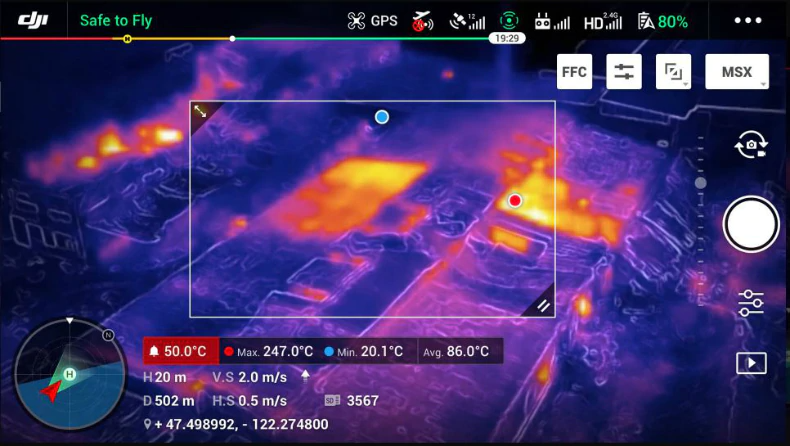 ISOTHERM
Allows pilots to designate specific temperature ranges to be displayed using a custom color palette so objects within the range relay higher contrast and better visibility. This feature includes custom profiles to aid search and rescue pilots in identifying people and to help firefighters identify hot spots in fires, as well as a custom profile setting for added flexibility.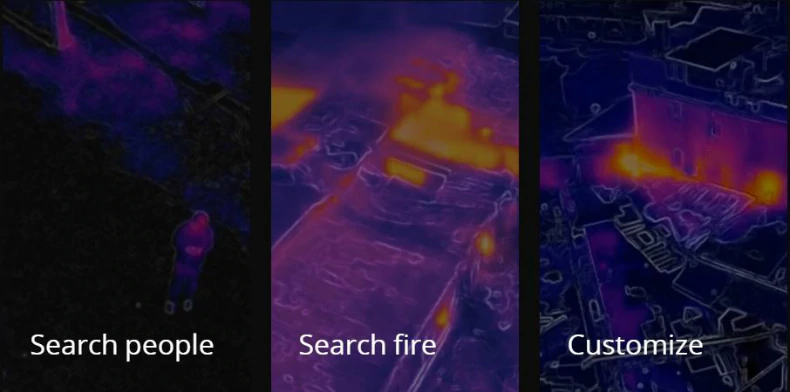 MODULAR ACCESSORIES
Unlock the possibilities of flight with an extended port that allows the user to connect additional devices onto the drone, helping to perform at its best in a variety of daily and critical missions. The M2E Spotlight for the low light environment, M2E Speaker for air to ground communication and M2E Beacon for night time operations.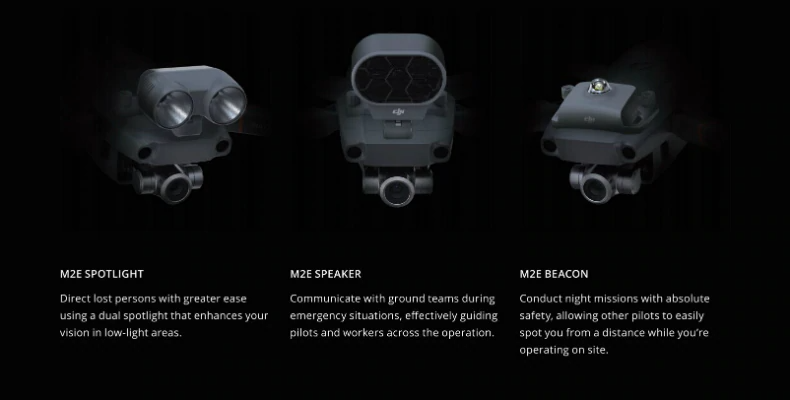 IN-BUILT CONTROLS
Fly with confidence using a range of advanced controls that are sophisticated in design and refined to give you the ultimate flying experience.
LESS INTERFERENCE, ENHANCED TRANSMISSION
A sheer flying performance with OcuSync 2.0 which supports automatic dual frequency band switching. This capability ensured a more reliable and stable flight and enhanced video transmission of up to 8 km at 1080p resolution.
MOVE WITH GRACE
Swiftly manoeuvre through complex environments with a powerful propulsion system that boasts minimal sound, and offers extended flight time of up to 31 minutes and a maximum speed of 72 kph.
MORE ROOM FOR YOUR MISSIONS
With a 24 GB internal storage, you can now store a lot more data for your missions, allowing you to get more done without the constant need of transferring images manually over SD card.
25 MIN AVERAGE FLIGHT TIME WITH EACH ACCESSORY
Max hovering time (no wind) of Mavic 2 Enterprise + M2E Spotlight: 22 min; Spotlight turned off 26 min
Max hovering time (no wind) of Mavic 2 Enterprise + M2E Speaker: 22 min; Spotlight turned off 26 min
Max hovering time (no wind) of Mavic 2 Enterprise + M2E Beacon: 27 min; Spotlight turned off 28 min
REFINED IMAGING FOR TACTICAL AND PRACTICAL USE
The imaging system has been developed to assist pilots in close-range missions and ensure data is captured efficiently and accurately. Stay close to the action but away from the danger. The Mavic 2 Enterprise is equipped with a 2s optical zoom camera that lets you operate in close range missions without putting yourself in harm's way.

GPS TIMESTAMPING
Like with the iOS or Android device, GPS timestamping records the time and date that images are taken, so you can leverage data for industry level applications where accuracy is essential, and timing is vital.
SELF-HEATING BATTERIES FOR ADVERSE ENVIRONMENTS
In the rugged terrains of New Zealand, you can rest assure that the Mavic 2 Enterprise will not falter. In demanding cold climates, the Mavic 2 Enterprise adapts with a suite of smart self-heating batteries that are capable of working in sub-zero temperatures.
PASSWORD LOCK FOR SECURED DATA
From take-off to landing, we've refined the way you interact with the Mavic 2 Enterprise and the environment, ensuring that the user will have a safe and productive flight at all times.

Simply enter a password to get access to the device and all of its features and functions. This intuitive way of logging in to the Mavic 2 Enterprise ensures secure access to the drone, thus preventing leakage of sensitive information. This feature will have the capability to authorise designated pilots to fly the craft which is essential for certain types of organisations.
DJI AIRSENSE
Stay aware of your immediate airspace. Avoid hazards in the sky with the DJI AirSense, which enhances your airspace safety by giving you instant real-time positioning alerts on nearby manned aircraft. AirSense uses an integrated receiver to automatically alert drone pilots of ADS-B signals from nearby aeroplanes and helicopters, providing real-time positioning alerts through the DJI Pilot mobile app. This provides an extra level of safety for professional drone operators who fly in congested airspace or near complicated operations, such as wildfire suppression, disaster recovery and infrastructure monitoring. DJI AirSense is a key system to help ensure drones remain a safe addition to the skies.

OMNIDIRECTIONAL OBSTACLE SENSING
Fly safer than ever, experience an unrivalled flight with the Mavic 2 Enterprise's omnidirectional obstacle sensing. This advanced sensing system enables you to fly and hover with more stability than ever in a wide range of open and complex environments.
ADVANCED PILOT ASSISTANCE SYSTEM (APAS)
Sense and avoid with ease, the Advanced Pilot Assistance System (APAS) intuitively detect objects near your drone's every move, letting you easily fly around or over an obstacle, particularly in tight spaces. Instead of the craft going to a halt when an obstacle is encountered the Mavic 2 Enterprise will avoid the obstacle and continue on its original course.
DJI PILOT
DJI Pilot is a robust Android and iOS app developed specifically for the enterprise users to unleash the power of their DJI drones. With development made specifically for the Mavic 2 Enterprise. DJI Pilot optimizes your flight capability for peak performance.

DIRECT FLIGHT CONTROL
Access camera and accessory settings, intelligent flight modes and more with a single touch.
CONDUCT AUTOMATED FLIGHT
Perform repeatable data collection missions and conduct them automatically.
DJI FLIGHT HUB
DJI FlightHub is a one-stop solution for managing your drone operations, supporting large organisations to scale their aerial operations effectively. Compatible with the Mavic 2 Enterprise, you can integrate FlightHub directly into your existing fleet of DJI drones and leverage its aerial intel across your organisation.

| | | |
| --- | --- | --- |
| LIVE OPERATIONS | FLIGHT DATA | FLEETS & PILOTS |
| Enhance project coordination with real-time information from remote drone operations. | Improve operations management and ensure regulatory compliance with easy flight log recording. | Increase team efficiency and communication by organising your teams and records around projects. |
MOBILE SDK
The DJI Mobile SDK is a software development kit designed to give developers access to the full capabilities of DJI's aircraft through a connected mobile device. The SDK simplifies the application development process by taking care of lower level functionality such as flight stabilisation., battery management and mores, so developers can focus their efforts on more defined functions to create an application that meets their industry-specific needs.

ACCESSORIES HIGHLIGHTS

ULTRA-PORTABLE
Following the key feature of the Mavic series, the Mavic 2 Enterprise is slim enough to be carried anywhere and engineered to handle any tasks whenever duty calls. At 905 g the Mavic 2 Enterprise can be folded in an instant and stored at the side of any belt package. This feature enables the bearer instant power that's easily accessible and transportable.
HIGHLIGHTS
31 Minute Flight Time
Zoom Camera
8km Control Range
Reaches speeds up to 72 km/h
3 Axis Gimbal to stabilise your videos
4K Video Resolution
12MP for great quality pictures