Whether skillful pilots or new beginners, Cetus X FPV Kit, as the advanced 2S power whoop bundle, is a completely primary choice to reach a higher stage. From its unparalleled control to its exciting flying that has you immersed your experience through every FPV flight, there is simply nothing like Cetus X FPV Kit. With the combination of Cetus X Brushless Quadcopter, LiteRadio 3 Radio Transmitter, and VR03 FPV Goggles, get ready for the next level.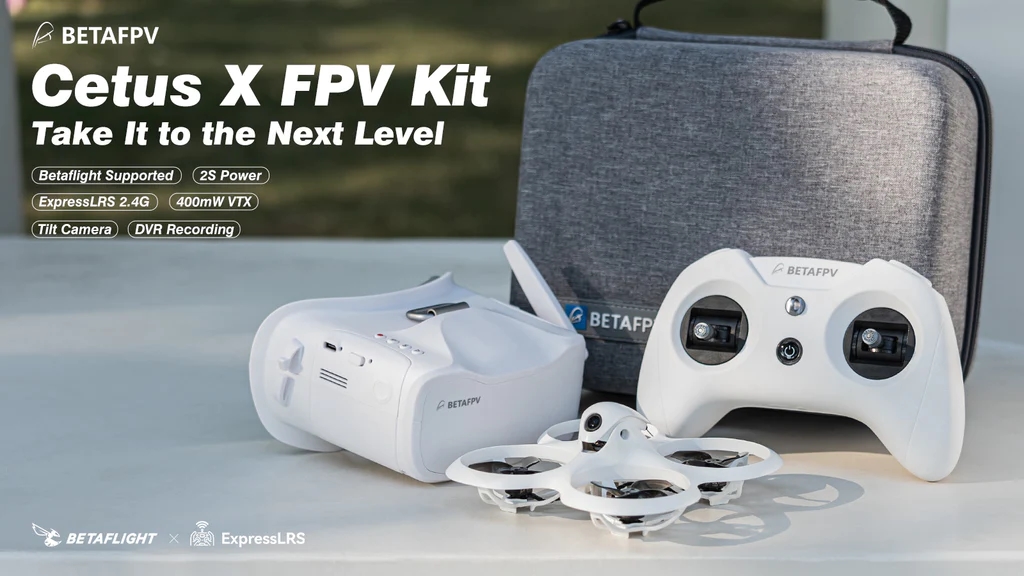 Bullet Point
Nothing quite beats the experience of flying Cetus X with an enhanced propulsion system, and longer radio and video transmission. With a very functional and potential remote controller and FPV goggles, pilots can unlock more accomplishments to the next level.

Two FC versions are offered for pilots. With the support of the Betaflight configurator, beginners can learn quadcopter configuration through the Betaflight FC version. For pilots who prefer the classical Cetus, the Cetus FC version with an altitude hold function is also coming soon.
Classical white design inherited from

Cetus Series

and made of PA12 material, the Cetus X frame has an excellent impact resistance in drop & impact and reduces the risk of damage, giving you more peace of mind.
The 360° protection of the whoop frame ensures safe flights both indoors and outdoors. Meanwhile, the FPV camera supports 0°-40° adjustable degrees, which provides different views for pilots.
LiteRadio 3 reserves a nano bay that supports the external TX module for the compatibility of more quadcopters. And the VR03 FPV goggles which are newly added a Micro SD card slot to save the video with DVR recording, support most Analog VTXs in the market.
The quadcopter, radio transmitter, FPV goggles, and all of the accessories are packed in an EVA portable storage bag. It is convenient to carry outside and better to protect the equipment.
Specification
Powerful Propulsion System
Equipped with 1103 11000KV Brushless Motor and Gemfan 2020 4-blade props, Cetus X Brushless Quadcopter delivers powerful propulsion, making it a 2S power whoop drone with some real punch to it. Besides, the whole quadcopter is light and durable enough, offering pilots a high-efficiency flight experience.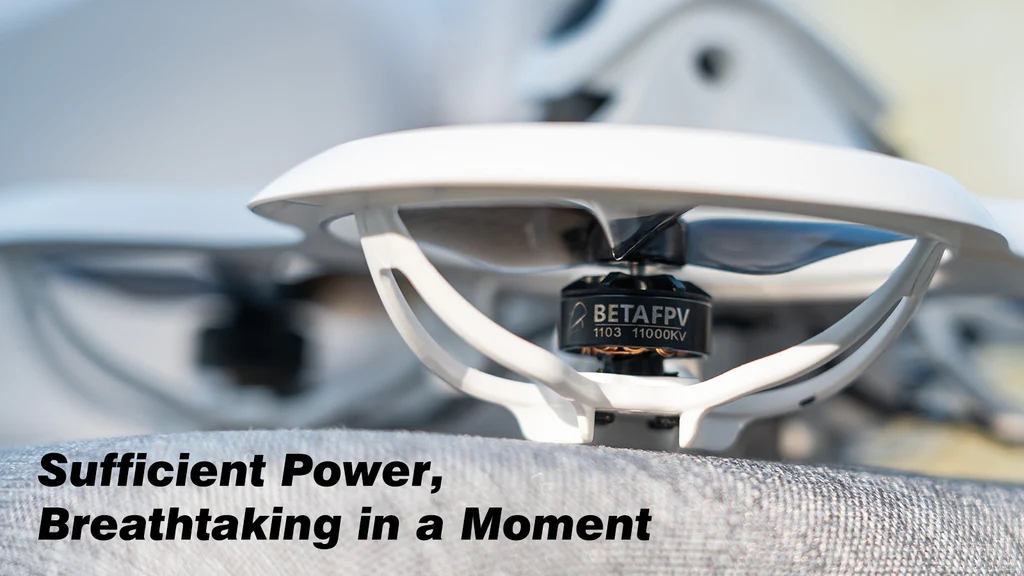 Recording Every Flight Moment
Newly developed by BETAFPV, and based on VR02 FPV Goggles, the VR03 FPV Goggles take features of VR02 and come with a DVR recording function. Pilots can enjoy the playback saved through the goggles or export the videos by Micro SD card. This exciting function allows pilots to catch the memorably breathtaking moment, greatly heightening the FPV flying experience.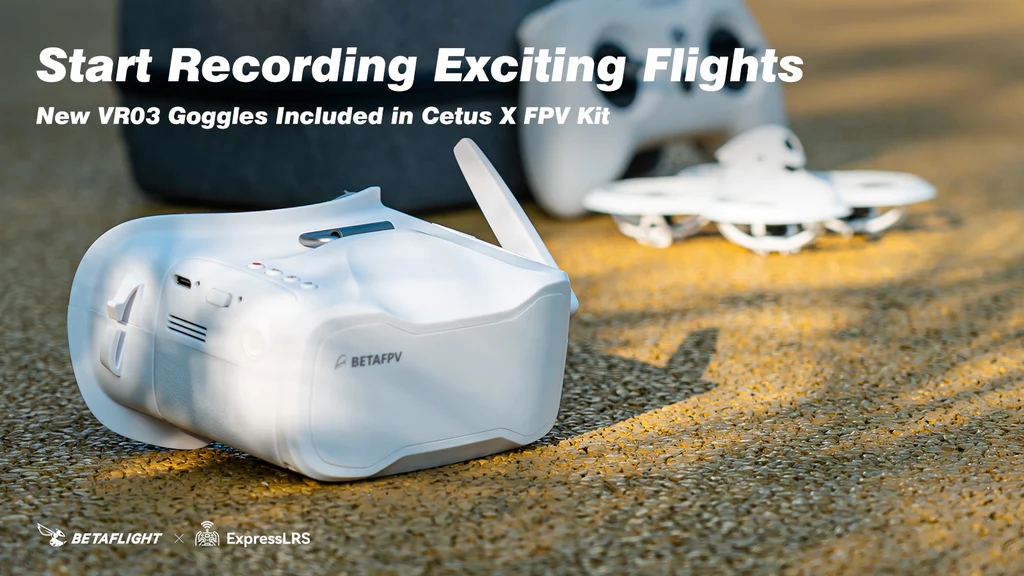 Improved Video Transmission
Cetus X Brushless Quadcopter comes with M04 25-400mW VTX and C04 FPV camera. M04 25-450mW VTX features a lightweight and adjustable output power for longer distance flying. Combining this VTX and the excellent radio link ExpressLRS 2.4G, pilots can fly whoop drones longer to explore more possibilities and have fun. In addition, C04 FPV camera (based on Caddx Nano Ant Camera/Runcam Nano 4) shows a better quality in FPV flight compared with C02 FPV camera.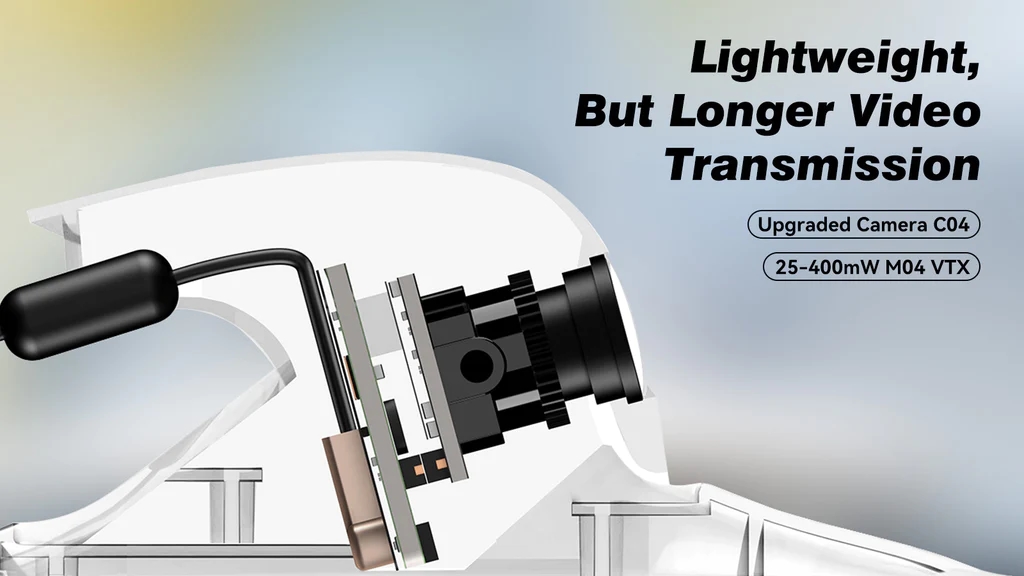 LiteRadio 3 Radio Transmitter
This transmitter features an ergonomically designed handle and has superb performance in its working time, a newly updated gimbal. Besides, this version supports BETAFPV Configurator, which is a utility designed to simply update, configure, and tune the radio controller. Experience the thrill of total immersion with unrivaled control and capture the world around you.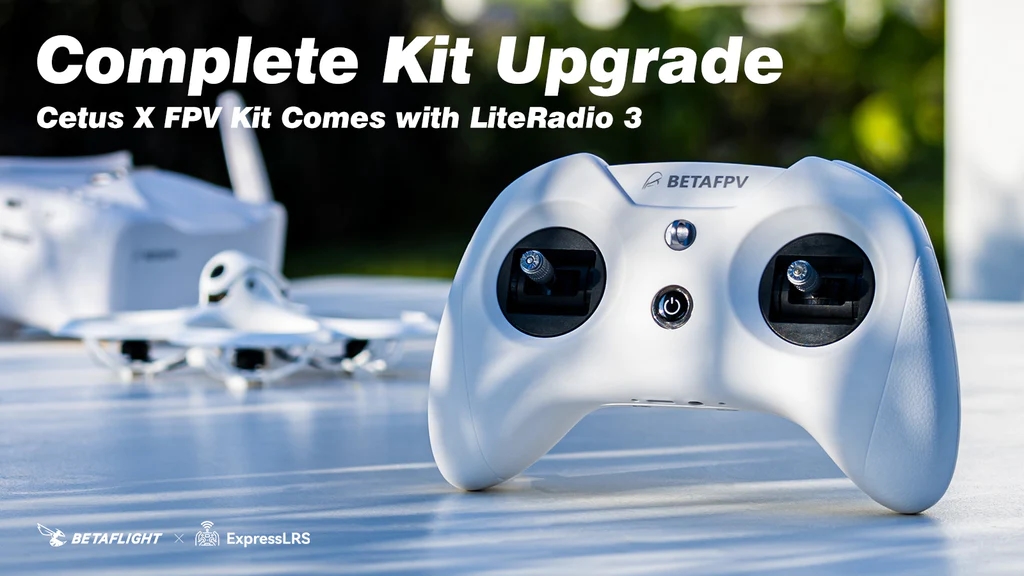 FPV Simulator Supported
First time flying a quadcopter? You can learn and practice flying a quadcopter through an FPV simulator before real flying. LiteRadio 3 is available to play FPV simulators like DRL/DCL/Uncrashed/Liftof